The spectacular sunset, the warm sand on the beach, the quiet sound of the lake water.
In the middle of the water there is a boat, and in the boat there are people in love, staring, dreaming, about to be happily engaged.
This story is impressive, isn't it?
And it can be your story of a romantic engagement at the lake.
In this article, we will tell you how to organize an unforgettable engagement at the lake.
We'll tell you what kind of engagement will impress your sweetheart.
Dinner at a restaurant?
Breakfast outdoors?
Getting engaged in a boat on a lake?
Romantic bike tours?
You get all this in a romantic hotel engagement package.
Table of Contents:
1 - Here's an idea! Romantic engagement at the lake
2. engagement idea
3. lakeside engagement
4. engagement in a restaurant 
5. breakfast outdoors
Surprise your beloved one! Organize a romantic engagement at the lake
This day, your loved one is to remember for the rest of their life.
The memory of this event, she will share with her work colleagues, friends and family.
Well...
Therefore, her story must be unique, surprising.
Her story of a romantic engagement is meant to impress, to impress her friends, to arouse admiration.
And this is where your task begins.
We admit, it's not easy:
Finding the right hotel to host your engagement (not every hotel offers an engagement package)
Choosing a ring (we're assuming that getting your beloved's ring size isn't that big of a challenge anymore 😉 .
preparing attractions and surprises for the beloved (hotel staff will be helpful)
dash
idea of a place to make a statement: restaurant, the beach, the boat on the lake?
When organizing a romantic engagement at the lake, you will need help.
This is understandable.
The hotel staff present and the waiters dedicated to you will help with the organization.
Their discretion and experience in this type of ceremony will prove invaluable.
Now it's time for you to show your creative nature.
The idea of a romantic engagement at the lake must now be implemented step by step.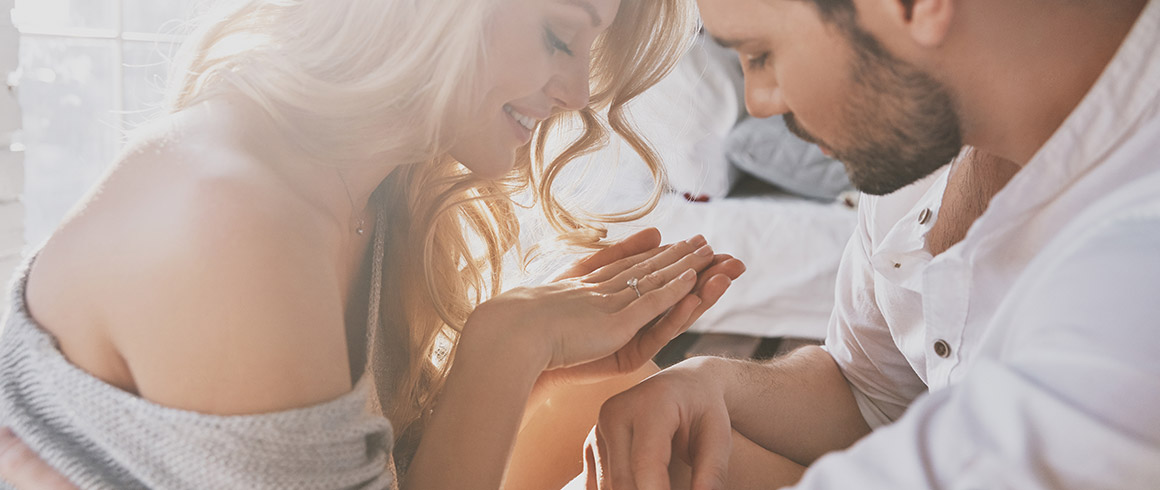 Hotel engagement - what can you expect?
These emotions, delights and attractions will not provide you with an apartment in the block or an exclusive restaurant in the city center.
You will spend a weekend at a hotel on the lake, a true engagement weekend.
The ladies at the front desk will welcome you to the hotel with a smile and direct you to your room.
Your stay will be full of romantic activities, without particularly suggesting to your future wife that during this weekend this, the most important question will be asked.
A bottle of wine and a gift for your sweetheart will be waiting for you in your hotel room.
Yes, shower her with small gifts right from the doorstep to move step by step to that most important gift.
These don't have to be expensive trinkets, they can be small gifts referring to your anniversaries, important events.
An alternative to gifts can be a bouquet of flowers.
You can order flowers for your beloved with delivery to the hotel or ask the hotel staff to order a bouquet.
What's more?
The world and rose petals in the hotel room will add a romantic touch.
What will your romantic lakeside engagement look like?
We have three suggestions for you.
Here they are.
Engagement on the lake
This will be an extreme proposition for some, but rest assured if you follow our tips, this plan can work 😉 .
Renting a boat at the resort will not be a problem.
Plan a cruise on the lake for the evening, the insane sunset will add romance to your engagement.
Maybe you can have a picnic at the lake?
Bring a picnic basket with you, pack champagne and fresh fruit.
Finally, there will be something to celebrate.
If you have developed your engagement plan well, everything will go according to the guidelines.
It is romantic, the sunset is, the warm water, the romantic cruise on the lake.
It all adds up, all ready to go.
Time to speed up the action and thus speed up her heartbeat.
Sail around a piece of the lake, stop at a quiet and place and now....
Time for that most important question.
Reach your hand into your pocket, take out the red velvet box and ask that question.
Valuable tip for you, however, try not to make sudden movements, loss of balance of the future groom end up swimming in the lake,
as well as losing the ring.
Yes, this is a very black scenario.
Therefore, if this option is too extreme for you, let's move on to our next romantic lake engagement proposal.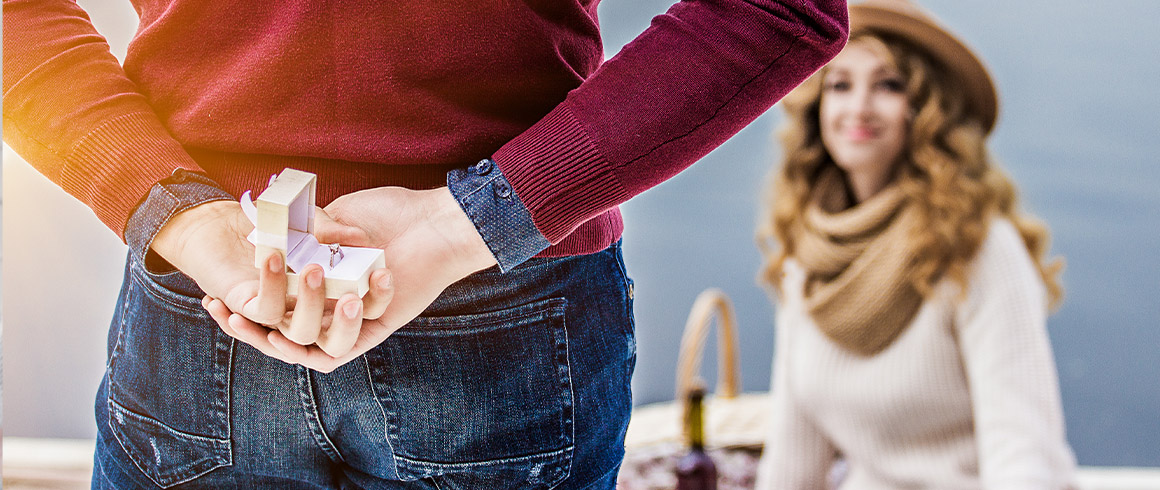 Romantic dinner in a restaurant overlooking the lake
This is a proposal for those who shy away from extreme experiences. You care about an elegant setting of the event.
You want to look picture perfect on that day, wearing the right outfits in a truly romantic mood.
Understandably, getting engaged is a very important event in life. You want to feel good that day and look good.
Your romantic dinner will be prepared by the hotel staff.
It is with her that you will determine all the details: the color of the flowers, the menu, the wine and other surprises.
You don't lose any of the scenic surroundings, it's still a romantic lakeside engagement.
You're in a lakeside restaurant, and from the windows you can see the sun setting over the water.
A romantic atmosphere is in the air.
Our recipe for a romantic hotel engagement?
An exquisite dinner at a restaurant, a bouquet of the most beautiful red roses and a diamond hidden in a small red box.
Why do we encourage you to get engaged at a hotel restaurant?
It's simple, in the package you get a captivating view from your window, picturesque surroundings and a staff of professionals to help you fill every moment of your special day.
As if that wasn't enough, "after the engagement" you don't have to drive your car home.
You can spend this night at the hotel and here enjoy the pool complex (if the hotel has one), nightclub, etc.
The next day, engaged and in love, you will have breakfast together and in a completely new role in life you will return to ordinary life.
Breakfast in the open air
A romantic lakeside engagement, you can have it in the evening or in the morning.
An engagement ring for breakfast?
Why not! Have you heard of such unusual engagements?
No?
Nothing lost, because this could be your story, which you have to admit, will certainly be impressive.
When deciding to get engaged in the morning, I assume you spent the night in a hotel.
Unbeknownst to the chosen one, she will be extremely surprised.
Traditional engagements take place at sunset and moonlight.
Your engagement will be different, uniquely unusual, in the morning.
This kind of let's say "getting things done" first thing in the morning allows you to enjoy the day and the excitement for the entire 24 hours and beyond 😉
What exactly will a romantic lakeside engagement look like in the morning?
It's going to be kind of a mini picnic.
The hotel staff in consultation with the restaurant will prepare for you a basket full of breakfast delicacies and all the picnic attributes.
Find that special spot on the beach, right by the lake, after all, it's supposed to be romantic.
A few moments in the outdoors is all it takes to finally ask that question.
Want to show your creative side?
Hide the ring in fruit or at the bottom of a cup.
Note: Don't pour your beloved coffee yet, give her an empty cup with a diamond on the bottom.
Surprise her with an unusual way to hide the ring.
That's what it's all about here and beautiful emotions o surprise o surprises.
May this engagement be full of such experiences so that you both have something to talk about.
How pleasant will it be to revisit such beautiful memories?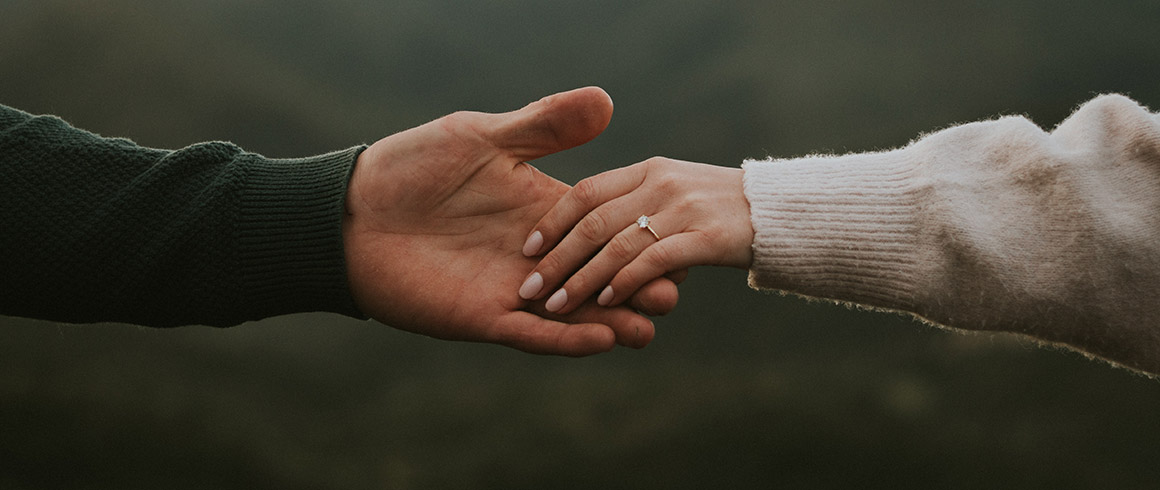 It all starts with an idea
She will not forget or forgive you. The engagement has to be original, unique, tailored to her needs.
I'm sorry, gentlemen, but it's a little...
If you have no idea how to organize a romantic engagement, get in touch with the professionals.
You can find them in, among other places. Molo Centrewhere you can not only organize this event, but also count on the creativity of the hotel staff.
After all, the hotel staff organized not the only engagement, they will spill ideas like a sleeve, suggest an interesting place for the engagement, will discreetly implement the event.
Take advantage of their knowledge and experience.
It costs nothing to send an inquiry.
Describe your expectations in detail, let them know what kind of engagement your fiancée and of course you dream of 🙂
Together, you will prepare the event that your beloved dreams of.
If you're looking for the right place for a romantic lakeside engagement, check out 
offer of the MOLO Centre
.
Maybe that's where the Pier Center will fall, that most important question.