Conferences, trainings, business meetings. Where to organize such events?
The first thing that comes to mind? Conference roomTraining or conference hotel.
Is there still a place where you can organize a successful business event?
How about conferences in a restaurant? It is one of the trendiest trends.
1. hall, hotel, restaurant?
2. what does a restaurant look like for business meetings?
Hotel, room, restaurant for conferences. What to choose?
Conference at the hotel is quite a challenge. We associate it with a really big event.
Multi-day event, catering, accommodation for guests.
Conference organization It's quite a challenge and requires a lot of commitment from us.
Of course, you don't really have a choice if you are planning an event for several days, you need to choose a hotel or a hotel that will provide you with accommodation and meals.
Booking a hotel for conferences is unfortunately a considerable expense, renting conference room also requires a considerable amount of money from us.
On top of that, there is the whole environment - advertising materials, catering, equipment, gifts for guests.
It adds up to quite a bit of money.
When planning your budget, can you include a less expensive venue?
Since conference room and hotels are actually ideal places for business meetings?
It turns out that you can. The business sector does not limit itself to organizing conferences in hotels. It invites its guests and partners to restaurants.
There are many factors that go into making a conference, especially a successful conference. From the handling of the event, to the venue and catering. If you usually invite your friends, colleagues, or clients for meetings to the restaurant, why not move important business meetings there?
After all, in a restaurant you have the space, the professional staff and the cuisine.
This last item takes care of that hard to find catering. It's a bit like the hotel - On site you have training rooms and a kitchen that will take care of hot meals.
Organizing a conference or a business meeting in a restaurant is an opportunity to show the guests, a little bit of yourself, your private sphere.
The decision to choose this place for your meeting should involve a cool story such as "they have the best Italian cuisine in town here", "my family and I come here every weekend, we have never been disappointed".
It's also a sign that you've chosen a recommended venue close to your heart.
By saying it's really cool here, you vouch for this place.
And since you are familiar with the venue, you are assured that the whole thing will go off without a hitch, that no one will serve poor food or serve your guests poorly.
A friendly venue, and therefore a relaxed relationship with the restaurant crew, will positively impact the event.
With whom you know, it will be easier for you to agree on certain details.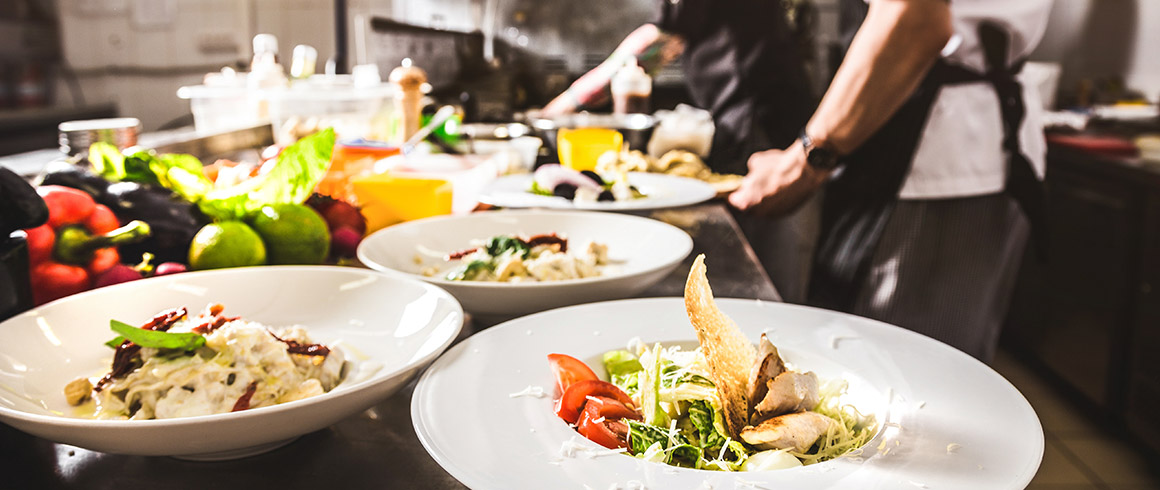 What should a restaurant look like for business events?
A restaurant room for a conference or other business meeting should, above all, be multifunctional.
What does this mean?
The restaurant owner should provide you with adequate space.
Tables, chairs, and their proper placement.
If you want intimacy, ask if you can rent the restaurant for exclusive use?
It will be quiet and intimate.
This is really important, because if in restaurants there will be a hustle and bustle, there is no chance to work quietly.
The same goes for a restaurant in a hotel, besides having to be air conditioned, nice and clean, it has to be suitable for work.
If a restaurant offers to host business events, it must prepare the conditions for you to hold the event.
There is still the question of food.
Buffet buffet, coffee service, etc.
The following should be on the tables: glasses, bottles of water, and on the tables where you are working.
The menu to be served should be agreed upon with the chef.
Opt for tried-and-true dishes, set a serving schedule, and alcoholic beverages at the end of the event.
During the event, you should have waiters available to pick up dirty dishes and refill drinks on a regular basis.
A restaurant for conferences is also the appropriate preparation. This should be taken care of by the owner.
Flipchart, projector, press materials. All this can be useful for you.
Unusual decor, delicious food, atmosphere
Business Meetings, conferences, briefings.
All business events require the right interior.
Of course you can hold meetings with clients or new partners at the company's headquarters, but wouldn't it be more pleasant to eat something good and talk about business in a less obliging place?
After all, in such a place there is both an intimate atmosphere, good food and freedom.
Inviting your future business partner to dinner at a friendly restaurant just looks good.
It's welcoming, it looks good. Creates a good environment for future business.
How about a business meeting in a modern restaurant that offers business guests a restaurant and conference facility.
Downtown restaurants have long prepared their local ones for corporate business services.
They offer not only a dining room, but also a VIP area. It's an intimate, quiet place away from the main restaurant.
Business clients can use the room for private dinners or business meetings.
The intimate space has room for office tables, a bar section with the finest spirits, and a large screen and projector.
When the meeting is over, you do not change venues.
In the evening, the restaurant turns into a nightclub with drinks and a special menu.
In such a place you can organize a successful business event combined with an evening party.
Looking for a place for a conference or business meeting? Check out offer MOLO Center.