National barbecue. That is, in a nutshell, what Poles do in May?
Of course, not all of us have the conditions to grill in May, or even every weekend.
Especially now with such beautiful weather ahead.
What if I live in a block of flats, don't have a garden and have nowhere to make a barbecue?
I can go to the hotel for a barbecue.
1 - Where can't you grill?
2. barbecue included from the hotel
For whom does the hotel barbecue offer?
Beautiful weather outside encourages us to go for walks, trips to the plot and of course to barbecue.
No wonder, it's pretty much our national sport.
Going to a barbecue is really a substitute for holiday gatherings with family and friends.
Delicious food, pleasant family atmosphere and a well-deserved rest.
Why, because you live in a block of flats, must you give up this pastime?
Are you sure you can't have a barbecue on your balcony?
A few words about this controversial idea.
The first most important reason why you can't grill on your balcony is simply because of the fire hazard.
Lighting a barbecue in a place where flammable materials or neighboring objects (in this case, your neighbor's balcony) could catch fire is simply prohibited by law.
Ignorance of the law harms, so if you are looking for a place to barbecue, familiarize yourself with the laws and, above all, with the regulations of cooperatives or housing communities.
Their provisions clearly state the prohibition of barbecue on the balcony in the block of flats, there is also mention of the penalty - it can be a fine of 500 zł.
Is it worth putting the residents of the block of flats at risk of fire and yourself at a financial loss?
You can use this 500 PLN for a barbecue, but not in a block of flats, but in a hotel.
How about a barbecue and bonfire party at the hotel?
At the outset we already clarify, it will not be a package of the grill alone for 500 zł.
Well maybe with hotel accommodation, but you will read about hotel suggestions for weekend barbecues later in this article.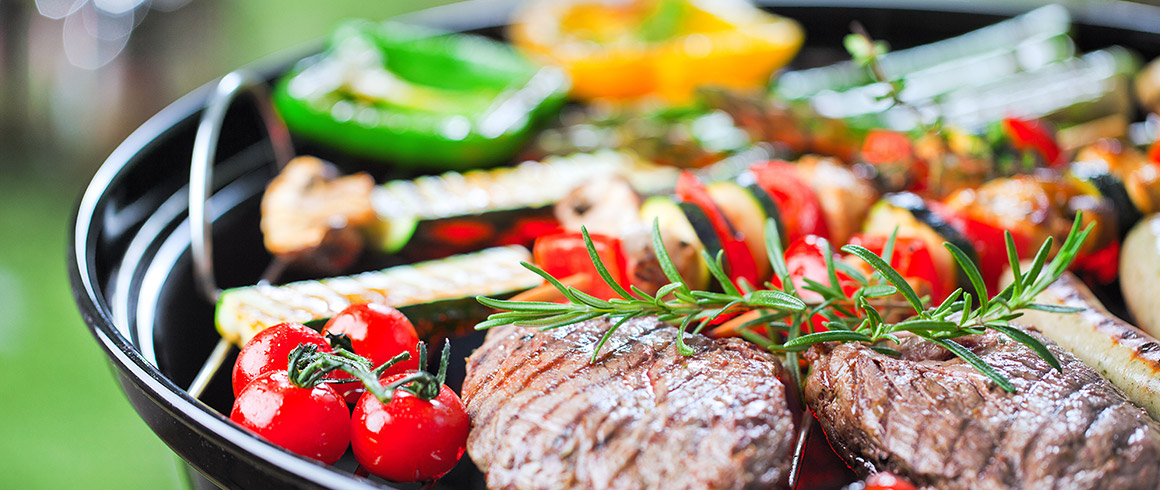 Package barbecue at the hotel. What it includes.
Package unequal to the package. It is understandable, the hotels are competing to spice up offers with a barbecue.
We can go to weekend to hotel and stay there overnight and take advantage of the breakfast offer and other hotel services.
There are quite a few options for hotel barbecues. Here are a few suggestions:
Holiday offer with barbecue
This is the most popular package we found in hotel listings.
When to grill if not during the vacations? Such residence offers mainly contain the option vacation. Barbecue package is an extra paid option or included in the package price.
The hotel gives you a ready-made barbecue set: a platter of meat and vegetables, a picnic set: plates, cutlery, deck chairs, hammocks, and of course your own barbecue.
BBQ packages at the hotel
Another option is a package entirely dedicated to grilling at the hotel. What does it look like technically?
You will not be staying in a hotel (although of course there is an option to buy accommodation on site), you will be barbecuing.
You'll arrive at the hotel at the time of your choice, pick up a package from the front desk: picnic basket, deck chairs, meat and charcuterie platter and barbecue.
Relaxation time at the grill can begin.

Weekend at the barbecue
The last proposal is a May package, thematically related only to the barbecue. The package includes a 2-day stay at the hotel with accommodation and meals.
For dinner, the hotel invites you to a big barbecue. You can take advantage of the hotel's options i.e. the kitchen, which manages the grill, serves the food.
The other option, of course, is to prepare the barbecue meal yourself, here using a barbecue kit from the hotel.
Such a weekend at the hotel is not just a barbecue, but also an evening bonfire and additional attractions. Disco for all guests, guided tours of the area.
Plus, if you're staying at a hotel with a pool, there will be a chance to relax in the wellness area.
This is what the most popular hotel packages look like smoked out with a barbecue:)
Each differs not only in schedule but also in price.
We will pay the most for a package with accommodation and full board.
The cheapest option turns out to be just buying the "barbecue kit".
In each of these options we get what we care about most: a barbecue area.
If you don't live in a house with a garden, but in a block of flats and you can't make a barbecue (because it is forbidden), you can buy a barbecue package in the hotel.
Now let's take a look at the specific packages we've found, what exactly are barbecue hotels offering us and for how much?
BBQ takeaway package
Relaxing in the fresh air, walking along the lakeshore and finally that coveted barbecue.
The take-home grill offer comes from one of the hotels on Lake Zegrzynski.
What is the grill to go offer and how to take advantage of it?
The grill at the hotel is for everyone, and is open during the hours indicated.
The hotel reception collects orders by phone.
Guests get a place to relax on the hotel grounds and a barbecue menu of their choice.
But let's go back to the technicalities, how do you order a barbecue at a hotel?
The grill hotel package, let's call it by its working name, is ordered by phone after selecting the menu.
Here we have two options to choose from.
Accordingly: barbecue menu for 29 zł, which includes selected meat, grilled vegetables, juice, ketchup, mustard.
The second set will delight fans of grilled sausage, because here we have sausage or black pudding and a set of vegetables. In addition, juice, mustard and ketchup. The price of this set is 24 zł.
The hotel also offers additional specials.
This package "buys" a barbecue menu and a place for quiet grilling.
The hotel grounds are at your disposal.
Just think of relaxing in a recliner and eating all that yummy food!:)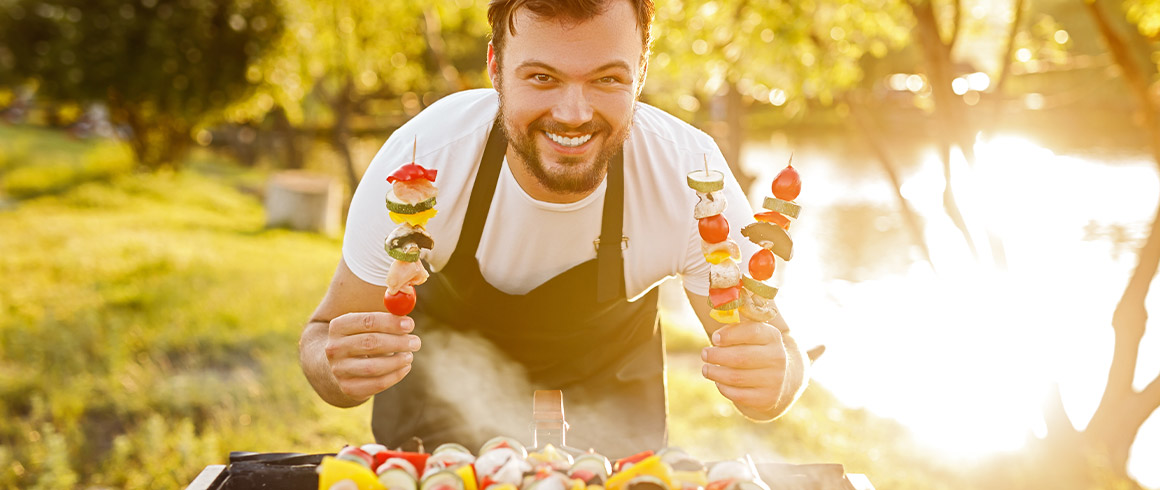 We do not hide this stay package, we liked the most.
A combination of holiday lakeside relaxation and barbecues?
Could it be better?
The offer comes from MOLO hotel center on the Sulejowski Lagoon.
Holiday offerings are one thing.
We have a full board hotel stay here.
Plus local and hotel attractions.
Meetings daily in the hotel's drink bar (hotel offers 1 drink free of charge).
What else was included in this offer? Children's playroom with a supervising animator.
The hotel has also prepared a relaxation area in the garden, and there waiting for you hammocks, deck chairs, volleyball, soccer field.
What's more, guests of the MOLO Center can also use the indoor pool at the family-run Magellan Hotel.
Package costs 149 PLN/person/day.
Finally, what we are all waiting for.
A barbecue package that includes a picnic basket, grill, deck chairs and hammocks, and a platter of treats to make your own.
In this offer we get our own barbecue kit, we make everything ourselves.
Here we have a place to barbecue and relax on the deck chairs.
The unquestionable advantage here is the location, the area by the Sulejowski Lake is a great place not only for vacation, but also for barbecue.
It's just a barbecue vacation. You can find detailed information about this offer here.
Hotel accommodation + barbecue set
We have reached the end, dear friends. In front of you is the last proposal for a barbecue at the hotel.
The package includes a great barbecue party late into the evening.
At the end of this barbecue, you will not have to go home, you will spend the night in a cozy hotel room.
It's an overnight stay + barbecue kit package. This is an option for people who are planning an all-day barbecue spiked with good alcohol.
We must admit this is a very convenient form of grilling.
It's kind of like when you're in your house and you go out for a barbecue in the garden.
This option is quite flexible, you can choose the option of accommodation with or without breakfast, the same applies to dinner.
However, who is going to eat dinner when we came here for a barbecue;)
Don't give up on Poles' favorite springtime pastime.
Don't have a house with a garden or a plot of land? Don't break down - take your family, friends and book a barbecue at a hotel.
You are sure to find an offer that suits you best.
Good luck with your grilling!